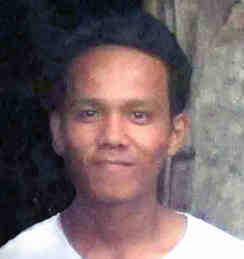 Minardo belongs to a broken family. One brother has special needs. Minardo has a slight speech impediment, but that does not stop him from associating with classmates. His trials are inspiring him to study hard, and his determination is extraordinary. His GPA is 88%. He walks 1 kilometer to school every morning, mid-day and evening. Frequently, he does not have enough food for a school day. Most of the time, his family only has two meals a day.

Goals: He wants to finish his studies and become a teacher.

Favorites: In school, Minardo likes Values Education and Filipino. He also enjoys surfing the Internet.

Family: He lives with his parents and three older brothers.

Income: One older brother works as a popcorn vendor and another works as an ice cream vendor. Their combined income is $9 day.

Housing: The family home has walls of nipa leaves, bamboo, coco lumber and tin sheets, a roof of nipa leaves and corrugated sheet steel, and a floor of packed dirt. They do not have electricity.

Nueva Ecijah, Philippines
Sponsor monthly, quarterly, or annually