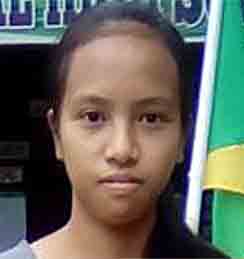 Arnelie is industrious, persevering and intelligent. She wakes early to walk a long way to school. She was elected president of her class and shows leadership skills. Arnelie was #8 in her class with an 89% grade point average. She is working hard to finish her studies.

Goals: Arnelie would like to become a teacher and help her parents.

Favorites: In school, she likes TLE (Technology and Livelihood Education), and Technolymics.

Family: Arnelie lives with her parents and two older sisters.

Income: Her two older sisters each earn about $1.70 a day doing nito weaving (making bags, trays, plates, etc. from nito vines). Arnelie helps her sisters in this work.

Housing: Their home has walls of bamboo. The roof is made of steel sheets. The floor is just packed dirt.