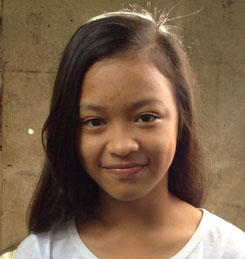 Leilonie is a diligent and responsible student. She is consistently an honor student, and was #1 in grades 7 and 8. The family has no electricity in their home, so she studies by flashlight in the evenings. Leilonie is a kind, friendly girl with a charming personality. She likes to help fellow students with difficult math assignments.

Goals: Leilonie would like to become a chef and a good business manager.

Favorites: In school, Leilonie likes composition and Filipino. She also enjoys reading.

Family: Leilonie lives with her parents and two siblings.

Income: Her father is a laborer. The family of 5 lives on less than $2 a day.

Housing: Their home has walls of coco lumber. The floor is just packed dirt.
Sponsor monthly, quarterly, or annually