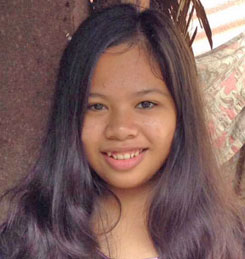 Nikita strives hard to get good grades. She has been #2 and #3 in the eighth grade. She is the sergeant-at-arms for one of the school organizations. Because a highway was widened, the home she was living was lost. She and her grandparents now live in a shanty near the highway.

Goals: Nikita wants to become a newscaster and support the needs of her family.

Favorites: She enjoys watching movies, but the family does not own a TV. She enjoys dancing contests and is very good at that.

Family: Her mother has passed away. Her father is living elsewhere, and because he has a new family he is not able to support her. She and her two younger siblings live with their grandparents.

Income: Her grandfather is a construction worker. The family of 5 lives on only about $8 a day.

Housing: Their home is a shanty with walls of bamboo. The roof is made of corrugated steel sheets. The floor is linoleum.
Sponsor monthly, quarterly, or annually