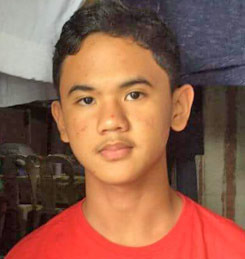 When Jorbin was only five years old, his father died. The family now lives in a shanty near a highway and may be asked to leave that area soon. He is diligent, obedient and excels in school. Jorbin consistently earns first honors with a grade point average of 96%. He placed third in a math quiz bee, third in a science quiz bee and first in a photo essay contest. He is a potential leader; next year he will be a representative in the Supreme Student Government in his school.

Goals: Jorbin wants to become a civil engineer, build a home for his mother and help his younger brother.

Favorites: In school, Jorbin likes mathematics and science.

Family: He lives with his mother, a younger brother and an older woman.

Income: His mother is the sole provider. She works as a waitress. The family of four lives on about $3 a day.

Housing: Their home has walls of coco lumber. The roof is made of corrugated steel sheets. The floor is wood.
Sponsor monthly, quarterly, or annually