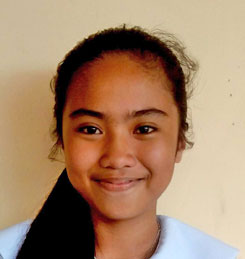 Reivhen is a hardworking student and is doing a great job in school. To help her family financially, she babysits during her vacation time and gives the money to her parents. She also walks to school to save money. In grade 8, she was #4 in her class with a grade point average of 92%.

Goals: She wants to attend the Philippine Military Academy or become an Engineer.

Favorites: In school, she likes reading and playing volleyball. She is very good at volleyball.

Family: Reivhen lives with her parents.

Income: At times, the family has to borrow money to live.

Housing: Their home has walls of coco lumber and tin sheets. The roof is made of corrugated steel sheets. The floor is half concrete and half packed dirt. The windows are tin sheets.
Sponsor monthly, quarterly, or annually