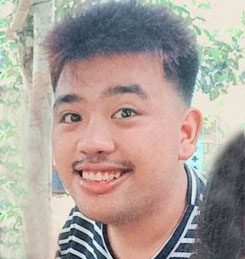 McLorence is engaged in many activities in and out of school. He is a hard worker, a good follower and a good leader. He has held offices in the SSG (Supreme Student Government). Since elementary school, he has consistently been in the top 10 of his class. He has a 91% grade point average.

Goals: He would like to finish his studies and get a job in the tourism industry.

Favorites: In school, Mc Lorence likes English and Science. He also enjoys reading.

Family: Mc Lorence lives with his parents, an older brother, a grandfather and an uncle.

Income: The family of 6 lives on about $11 a day.

Housing: Their home has walls of bamboo and hollow blocks. The floor is concrete.

Sponsor monthly, quarterly, or annually