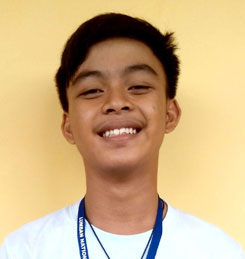 Mhel-Krish has a strong desire to achieve his goals. He has held many leadership positions including the Vice President of the SSG (Supreme Student Government), classroom peace officer, English club auditor and English group activity leader. Additionally, he has been involved in poster making, bible quiz bees and slogan making contests. He was an honor student in grade 9 and has a 92% grade point average.

Goals: He wants to become a teacher or civil engineer.

Favorites: In school, Mhel-Krish likes Science, Math, English and MAPEH (Music, Arts, Physical Education and Health).

Family: Mhel-Krish lives with his parents, a younger sister, his grandmother and two cousins.

Income: His parents are farmers with uncertain incomes. One cousin works. The family of 7 lives on about $10 a day.

Housing: Their home has walls of hollow blocks. The roof is made of corrugated steel sheets. The floor is concrete.

Sponsor monthly, quarterly, or annually