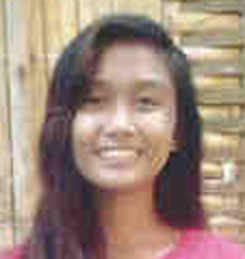 Mary is an honor student with a 90% grade point average. She has been a classroom Peace Officer and the Auditor of the MAPEH (Music, Arts, Physical Education and Health) club. She placed second in a script writing contest and sixth in all over performance.

Goals: Mary wants to become a successful fire woman.

Favorites: In school, she likes science and doing experiments.

Family: Mary lives with her mother, grandparents, an uncle and an older sister.

Income: The family of 6 lives on about $8.50 a day.

Housing: Their home has walls of bamboo, the floor is bamboo and the windows are bamboo slats.
Sponsor monthly, quarterly, or annually