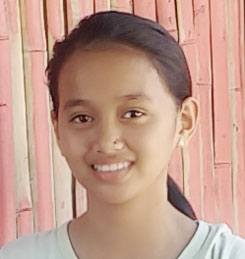 Nicole prioritizes her studies first, submits assignments on time, and always fulfills tasks given to her efficiently. She is trusted by her class mates. As class treasurer, she religiously kept records of all collections and contributions. Nicole excels academically and performs tasks diligently. She is #1 in her class, an honor student, and has a 91% grade point average.

Goals: Nicole wants to become a chief.

Favorites: In school, she likes English classes.

Family: Nicole lives with her parents and a younger sister.

Income: The family of 4 lives on about $6 a day.

Housing: Their home has walls of hollow blocks. The floor is concrete. The windows are glass.
Sponsor monthly, quarterly, or annually