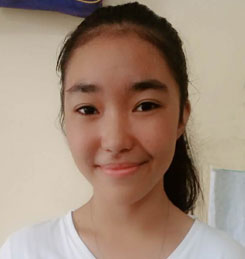 Shela always puts her studies first, never skips school and always does her best to comply with different school requirements. She was elected class president and gives clear instructions to class mates when given tasks by her teacher. She is an honor student with a 90% grade point average.

Goals: Shela wants to become a police officer.

Favorites: In school, she likes English and TLE (Technology and Livelihood Education). She also enjoys dancing and reading books.

Family: Shela lives with her parents, 4 older siblings, a nephew and a grandmother.

Income: The family of 9 lives on about $15 a day.

Housing: Their home has walls of hollow blocks. The roof is made of corrugated steel sheets. The floor is concrete. The windows are wood.
Sponsor monthly, quarterly, or annually