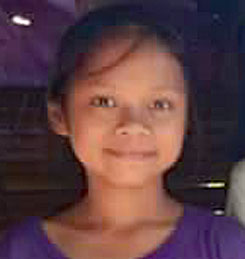 Rhea demonstrates perseverance by walking 30 minutes to school every day. When her classmates have difficulties, she helps them solve academic problems. She is an honor student and was best in AP (Advanced Placement) and best in Filipino studies. She has a grade point average of 87%.

Goals: Rhea wants to be a Call Center Agent or a teacher.

Favorites: In school, she likes Science and English. She also enjoys reading books and singing.

Family: Rhea lives with her parents and 5 siblings. All her siblings are in school.

Income: The family of 8 lives on about $6 a day.

Housing: Their home has walls of hollow blocks. The floor is concrete. The windows are bamboo slats.
Sponsor monthly, quarterly, or annually