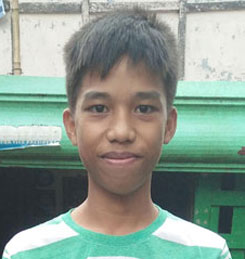 Reynante is very passionate about everything he does. When working with groups, he pays attention to all members of the group. He was the Science Club Auditor and a classroom monitor. He is an honor student with a 92% grade point average.

Goals: Reynante wants to become a Certified Public Accountant.

Favorites: In school, he likes Math and Science. He also enjoys reading books.

Family: Reynante lives with his parents and 6 older siblings.

Income: The family of 9 lives on about $12 a day.

Housing: Their home has walls of hollow blocks and coco lumber. The roof is made of corrugated steel sheets. The floor is concrete and packed dirt. The windows are bamboo slats.
Sponsor monthly, quarterly, or annually