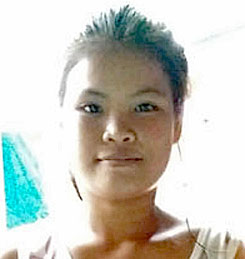 Juvy Ann is a hardworking student. She can lead teams and is very open to different opinions. She sometimes misses school because of flooding in her home area, but she still performs well in school. Juvy Ann was elected treasurer of her class. She placed second in a collage making contest and participated in a 100 meter relay race. She is an honor student with a 92% grade point average.

Goals: Juvy Ann wants to become a teacher.

Favorites: In school, she likes Filipino. She also enjoys reading.

Family: Juvy Ann lives with her parents and 6 siblings.

Income: The family of 9 lives on about $10 a day.

Housing: Their home has walls of plywood. The roof is made of corrugated steel sheets. The floor is rough flooring. The windows are plywood.
Sponsor monthly, quarterly, or annually