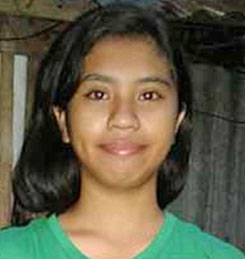 Catherine is a good follower and has the ability to be a good leader. She was elected Sergeant-at-arms. She knows the value of an education and has a strong desire for higher education. She had an 94% grade point in her senior year of high school.

Goals: Catherine wants to become a teacher.

Favorites: In school, she likes Science, Math, AP (Advanced Placement) and English. She also enjoys singing and reading books.

Family: Catherine lives with her parents and 3 brothers.

Housing: Their home has walls of bamboo and hollow block, a roof of galvanized sheet, and the floor is packed dirt.
Camarines Sur, Philippines
Sponsor monthly, quarterly, or annually