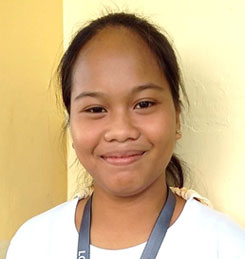 Joanna shows a real determination to complete her studies. She wants to finish her studies, become a teacher and help her two younger siblings in their studies. She works well in class and most of the time she leads her group in different studies. Joanna ranked #8 of 400 students in grade 9, and has a 90% grade point average.

Goals: Joanna wants to be a teacher.

Favorites: In school, she likes TLE (Technology and Livelihood Education). She also enjoys playing volleyball.

Family: Joanna lives with her parents and two younger siblings.

Income: The family of 5 lives on about $2 a day.

Housing: Their home has walls of bamboo. The roof is made of nipa leaves. The floor is just packed dirt. The windows are bamboo slats.
Camarines Sur, Philippines
Sponsor monthly, quarterly, or annually