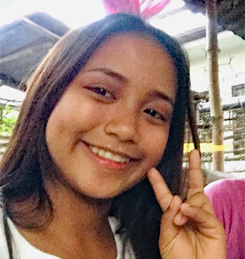 Richelle has a caring nature and personality, and is always supportive of her peers. She works well in teams and shows respect for different opinions. She is a consistent honor student with a 92% grade point average.

Goals: Richelle wants to become a teacher.

Favorites: In school, she likes English and TLE (Technology and Livelihood Education). She also enjoys reading and dancing.

Family: Richelle lives with her parents, an older brother and young niece.

Income: The family of 5 lives on about $4 a day.

Housing: Their home has walls of hollow blocks and coco lumber. The roof is made of corrugated steel sheets. The floor is concrete and linoleum. The windows are bamboo slats.
Nueva Ecijah, Philippines
Sponsor monthly, quarterly, or annually