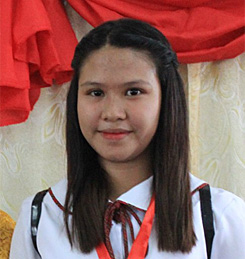 April Joy is a consistent honor student with a 92% grade point average. She actively participates in classes and school activities. Despite hardships, April Joy manages to be strong and works hard to get good grades.

Goals: April Joy wants to become a teacher.

Favorites: In school, she likes Social Studies and Filipino. She also enjoys composing songs and singing.

Family: April Joy lives with her mother, an older sister and a brother in-law. Her father is deceased.

Income: The family of 4 lives on about $4 a day.

Housing: Their home has walls of hollow blocks. The roof is made of corrugated steel sheets. The floor is concrete.
Nueva Ecijah, Philippines
Sponsor monthly, quarterly, or annually