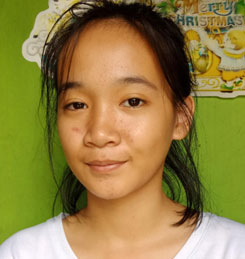 Nhereen is an honor student with a 93 grade point average. She is the Vice President of her class and the Business Manager for the Science Club. She is involved in several academic and extracurricular activities, and always does her best.

Goals: Nhereen would like to become a doctor.

Favorites: In school, she likes English, Math and Science. She also enjoys singing and dancing.

Family: Nhereen lives with her parents and two younger siblings.

Income: The family of six lives on only about $2.50 a day.

Housing: Their home has walls of hollow blocks. The roof is made of corrugated steel sheets. The floor is concrete. The windows are wire mesh.
Sponsor monthly, quarterly, or annually