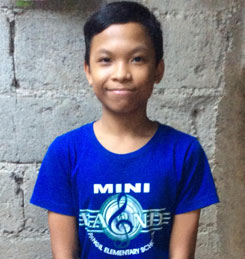 John is a diligent student with a strong desire to learn and achieve his goals. He is ready to serve other students, and is a kind and cheerful friend. John is an excellent student with a 91 grade point average.

Goals: John wants to work in Interior Design, or Computer Programming.

Favorites: In school, he likes AP (Advanced Placement) and Filipino.

Family: John lives with his father and an older brother.

Housing: Their home has walls of coco lumber. The roof is made of nipa leaves. The floor is just packed dirt. The windows are bamboo slats.
Sponsor monthly, quarterly, or annually