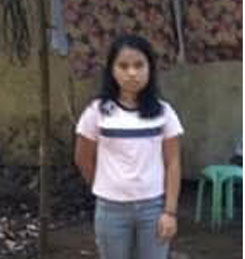 Gracevell is a very inquisitive student who is eager to learn. She is a top student in her class and is able to help other students who are struggling. Gracevell gets up early to walk 2 km to school. She is also a contributing writer to her school newspaper, and has an 89 grade point average.

Goals: Gracevell wants to become a doctor.

Favorites: In school, she likes Math and Science. She also enjoys playing volleyball.

Family: Gracevell lives with her parents and six younger siblings.

Income: The family of 9 lives on about $6.70 a day.

Housing: Their home has walls of bamboo and nipa leaves. The roof is made of nipa leaves and corrugated steel sheets. The floor is packed dirt and linoleum. The windows are bamboo slats.
Sponsor monthly, quarterly, or annually