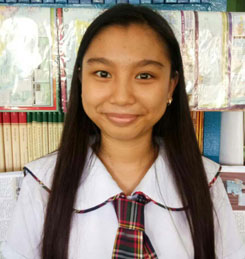 Alliyah is a hardworking student who is very determined to get good grades. She actively participates in school activities. Alliyah has been a class secretary and a class representative. She is an honor student with a 90 grade point average.

Goals: Alliyah wants to become a doctor.

Favorites: In school, she likes science. She also enjoys reading books.

Family: Alliyah lives with her parents, a younger brother, a grandmother and a bed-ridden grandfather.

Income: The family of 6 lives on about $5.30 a day.

Housing: Their home has walls of tin sheets. The roof is made of corrugated steel sheets. The floor is packed dirt and concrete. The windows are bamboo slats.
Sponsor monthly, quarterly, or annually