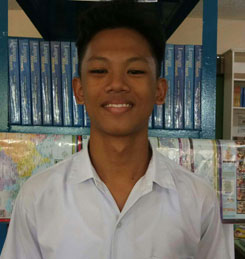 John studies hard to get higher scores on quizzes and exams. He has been a classroom Peace Officer and that gave him the opportunity to develop leadership skills. He is an honor student with a 90 grade point average.

Goals: John wants to become a Civil Engineer.

Favorites: In school, he likes English, Math and Filipino. He also likes playing basketball and volleyball.

Family: John lives with his parents and an older sister.

Income: The family of 4 lives on about $8.40 a day.

Housing: Their home has walls of hollow blocks and coco lumber. The roof is made of corrugated steel sheets. The floor is linoleum.
Sponsor monthly, quarterly, or annually