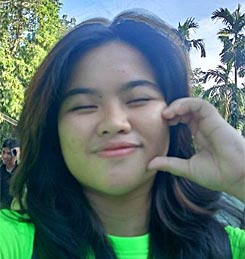 Mary Rose is doing her best to excel in her classes. She has a nice personality and was elected to be a classroom president. She is a consistent honor student, ranked #2 in her class and won a Golden Pen award. Mary Rose has a 92% grade point average.

Favorites: In school, she likes English, Filipino, Journalism, Science and AP (Advanced Placement). She also likes Girl Scouts, planting and cooking.

Family: Mary Rose lives with her parents and three siblings.

Income: The family of 6 lives on about $3 a day.

Housing: Their home has walls of hollow blocks. The floor is backed dirt and linoleum. The windows are bamboo slats.
Sponsor monthly, quarterly, or annually