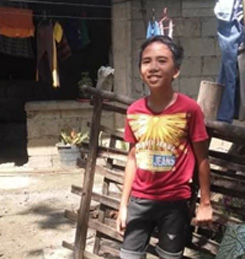 Jhon has a positive attitude, performs well in his classes and works well with groups of other students. He is ranked #3 in his class and has an 89% grade point average.

Goals: He wants to become an engineer.

Favorites: In school, he likes Science and English.

Family: Jhon lives with his parents and four siblings.

Income: The family of 7 lives on about $5 a day.

Housing: Their home has walls of bamboo and hollow blocks. The roof is made of corrugated steel sheets. The floor is concrete and backed dirt. The windows are bamboo slats and wire mesh.
Sponsor monthly, quarterly, or annually