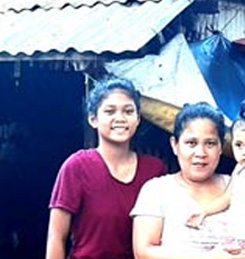 Luiza is very determined and goal-oriented, and she knows that an education is the key to fulfilling her dreams. She is a consistent honor student and has served as class secretary. Other students often ask for her assistance.

Goals: She wants to become a civil engineer.

Favorites: She likes to play volleyball

Family: Luiza lives with the mother and younger sister. Her father passed away last year.

Income: Her mother earns money doing laundry for other families, so sometimes Luiza goes to school without any money for lunch.

Housing: Their house has bamboo and block walls, a tin-sheet roof, a cement floor, and bamboo slats in the open windows.
Nueva Ecijah, Philippines
Sponsor monthly, quarterly, or annually