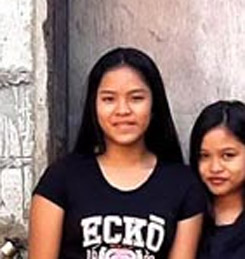 Renaline is a responsible daughter and a consistent honor student. She has leadership skills and is a class president. She has a 96% grade point average.

Goals: Renaline wants to become a teacher.

Favorites: In school, she likes Math, Filipino and English. She also enjoys sports.

Family: Renaline lives with her mother and two younger siblings. Her father has passed away.

Housing: Their home has walls of hollow blocks. The roof is made of corrugated steel sheets. The floor is ceramic tiles. The windows are glass.
Nueva Ecijah, Philippines
Sponsor monthly, quarterly, or annually