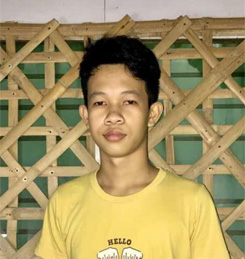 John strives for excellence and was a high honor student in junior high. He has also been a SSG (Supreme Student Government) leader and a classroom officer. John has a 95% grade point average.

Favorites: In school, he likes Filipino and E.S.P (how to become humane and do humane things).

Family: John lives with his parents and an older sibling.

Income: The family of 4 lives on about $6.45 a day (but the pandemic has reduced their income).

Housing: Their home has walls of plywood. The roof is made of corrugated steel sheets. The floor is concrete. The windows are glass.
Sponsor monthly, quarterly, or annually