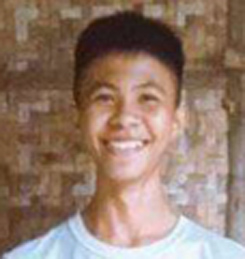 King John is very bright and very committed to his studies. Additionally, he is good leader, good listener and willing to compromise with fellow students. He is also an honor student with a 92% grade point average.

Goals: He wants to finish school, get a good job and help his parents.

Favorites: In school, he likes Filipino and Aral-Pan (history and economics).

Family: King John lives with his parents and two older sisters.

Income: The family of 5 lives on about $4 a day.

Housing: Their home has walls of wood. The roof is made of steel sheets. The floor is concrete. The windows are bamboo slats.
Sponsor monthly, quarterly, or annually