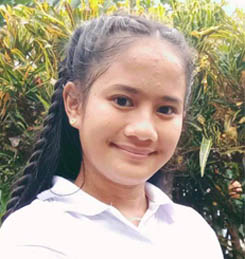 Nicole is very eager to learn and shows extraordinary dedication to her studies. She never stops asking questions until she understands the subject. Nicole is very approachable, responsible and wants to help others. She has been a classroom president and a SSG (Supreme Student Government) vice president. She is an honor student with a 94% grade point average.

Goals: She wants to finish her schooling and become a nurse.

Favorites: In school, she likes English, drawing and singing.

Family: Nicole lives with her grandmother, brother, sister-in-law and two nephews.

Income: The family of 6 lives on about $7 a day.

Housing: Their home has walls of wood, concrete and plywood. The roof is made of corrugated steel sheets. The floor is concrete. The windows are bamboo slats.
Sponsor monthly, quarterly, or annually