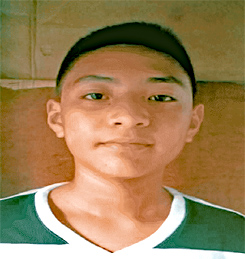 Carl is a high honor student with a 95% grade point average. He shows a deep curiosity about many subjects. In classes, he asks good questions that dive deeply into subjects being studied. Carl is also good at building relationships.

Goals:Carl would like to become a pastor.

Favorites:In school, he likes school contests (like Quiz Bees).

Family:Carl lives with his mother and a younger sister.

Income:The family of 3 lives on about $3 a day.

Housing:Their home has walls of wood. The roof is made of corrugated steel sheets. The floor is bamboo. The windows are bamboo slats.
Sponsor monthly, quarterly, or annually