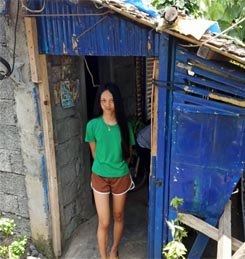 Darlyn is a diligent, excellent honor student who is motivated to learn new things. She knows how to deal with her teachers, classmates and other people. She handles herself well in difficult situations and can handle stress.

Favorites: In school, she likes Filipino and English.

Family: Darlyn lives with her parents and a younger sibling.

Income: The family of 4 lives on about $6 a day.

Housing: Their home has walls of wood. The roof is made of corrugated steel sheets. The floor is concrete. The windows are bamboo slats.
Sponsor monthly, quarterly, or annually