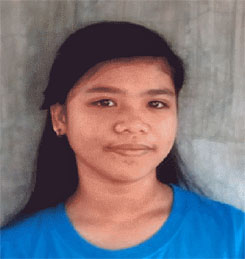 Robelyn is a consistent honor student in the special Information, Communication and Technology (ICT) program. She actively participates in classroom discussions and works well with classmates. She has a 91 % grade point average.

Goals: Robelyn wants to become a teacher.

Favorites: In school, she likes Filipino, E.S.P (how to become humane and do humane things) and MAPEH (Music, Arts, Physical Education and Health).

Family: Robelyn lives with her parents and three siblings.

Income: The family of 6 lives on about $6 a day.

Housing: Their home has walls of concrete. The roof is made of corrugated steel sheets. The floor is linoleum. The windows are bamboo slats.
Nueva Ecijah, Philippines
Sponsor monthly, quarterly, or annually