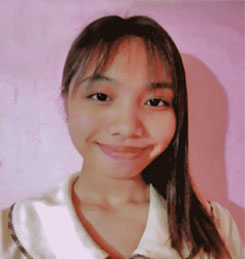 Jonalyn has held several leadership positions. She has been a SSG (Supreme Student Government) councilor, a Values Education class president and a Public Education Officer. She is a consistent honor student with a 95 % grade point average.

Goals: Jonalyn wants to become an accountant.

Favorites: In school, she likes English, Filipino and Science. She also likes writing essays and won an essay writing contest.

Family: Jonalyn lives with her parents and three older siblings.

Income: The family of 5 lives on about $9.60 a day.

Housing: Their home has walls of concrete. The roof is made of corrugated steel sheets. The floor is concrete and linoleum. The windows are glass.
Nueva Ecijah, Philippines
Sponsor monthly, quarterly, or annually