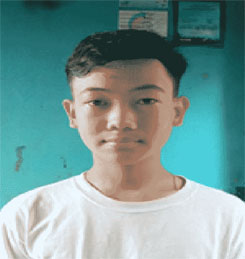 Benidic is a good leader and is often a classroom officer. He knows that finishing his studies is the first step toward his goals. Benidic is a consistent honor student despite having to borrow an old cell phone to attend his on-line classes. He has an 89% grade point average.

Goals: Benidic wants to become a flight attendant.

Favorites: In school, he likes math and Filipino.

Family: Benidic lives with his father, mother and two siblings.

Income: When his father can find construction work, the family of 5 lives on about $3 a day.

Housing: Their home has walls of concrete. The roof is made of corrugated steel sheets. The floor is linoleum. The windows are bamboo slats.
Nueva Ecijah, Philippines
Sponsor monthly, quarterly, or annually