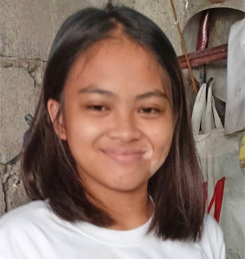 Jaira has a strong desire to finish her education. She strives for excellence, gets good grades and is an honor student. She was a grade 8 representative to YES-O (Youth for Environment in Schools Organization) and in grade 9 a Student Government Chairperson. Jaira has a 91% grade point average.

Goals: Jaira wants to become a flight attendant.

Favorites: In school, she likes Math, English, MAPEH (Music, Arts, Physical Education and Health) and E.S.P (how to become humane and do humane things).

Family: Jaira lives with her parents and two siblings.

Income: The family of 5 lives on about $5 a day.

Sponsor monthly, quarterly, or annually