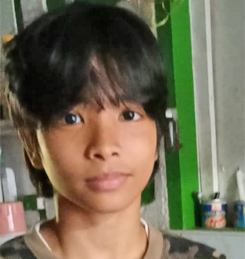 Frix strives for excellence and is eager to learn. He likes to help his family and is determined to finish his studies. He also helps his younger brother in his studies. Frix has a 90% grade point average and is an honor student.

Goals: Firx wants to enter and finish college.

Favorites: In school, he likes math and MAPEH (Music, Arts, Physical Education and Health).

Family: Frix lives with his parents and two siblings.

Income: The family of 5 lives on about $7 a day.

Housing: Their home has walls of wood, concrete and corrugated steel sheets. The roof is made of corrugated steel sheets. The floor is concrete. The windows are glass and wood.
Sponsor monthly, quarterly, or annually