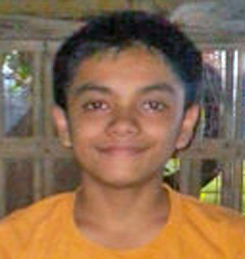 Vin is eager to learn, knows how to manager his time and has the ability to finish his studies. He is also honest, respectful and has leadership skills. He has been a classroom president and a consistent honor student from grades 1 to 8. Currently he has a 93% grade point average.

Favorites: In school, he likes Science, Math and English.

Family: Vin lives with his parents and one younger sibling.

Income: The family of 4 lives on about $2 a day.

Housing: Their home has walls of wood. The roof is made of nipa leaves. The floor is dirt. The windows are bamboo slats.
Sponsor monthly, quarterly, or annually