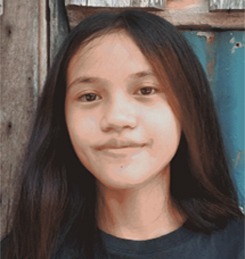 Roxanne knows that success in her current schoolwork will lead to getting into a good college. When she led a group activity, she always communicated clearly, kept the team up to date on project goals, priorities and important deadlines. When exams are near, she often creates a study group where students can exchange ideas. In difficult times, she always smiles and constantly strives to be a better person for the sake of her future. Roxanne is an honor student with a 90% grade point average.

Goals: Roxanne wants to become a doctor.

Favorites: In school, she likes E.S.P. (how to become humane and do humane things).

Family: Roxanne lives with her parents and four siblings.

Income: The family of 7 lives on about $4 a day.

Housing: Their home has walls of plywood. The roof is made of corrugated steel sheets. The floor is concrete. The windows are plywood.
Sponsor monthly, quarterly, or annually