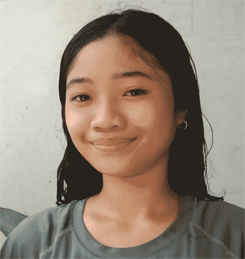 Noeme is a very motivated student who strives to effectively manage her home and school responsibilities. She values her family above everything else and that motivates her to study and perform well in school. She is an honor student with a 92% grade point average.

Goals: Noeme wants to become a teacher.

Favorites: In school, she likes Filipino and MAPEH (Music, Arts, Physical Education and Health).

Family: Noeme lives with her parents and five siblings.

Income: The family of 8 lives on about $6 a day.

Housing: Their home has walls of plywood. The roof is made of corrugated steel sheets. The floor is concrete. The windows are plywood.
Sponsor monthly, quarterly, or annually