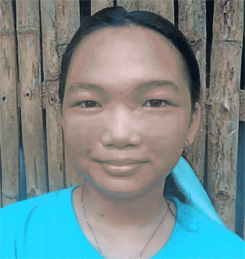 Mariel is an exceptional student who consistently scores at the top of her class. She is an honor student with a 94% grade point average.

Goals: Mariel wants to become a teacher.

Favorites: In school, she likes English, Filipino and TLE (Technology and Livelihood Education).

Family: Mariel lives with her parents and three younger siblings.

Income: The family of 6 lives on about $6 a day.

Housing: Their home has walls of wood and concrete. The roof is made of corrugated steel sheets. The floor is concrete. The windows are glass and bamboo slats.
Sponsor monthly, quarterly, or annually