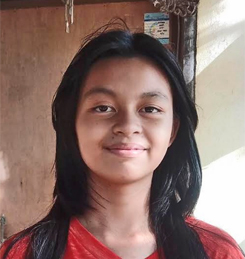 Khryzh-Mhiel is a very hardworking student who loves learning new things. She was a class president in grade 8 and the leader of most class activities. She has an 89% grade point average.

Goals: She wants to become a veterinarian.

Favorites: In school, she likes science.

Family: Khryzh-Mhiel lives with her parents, a grandmother and an older brother.

Income: The family of five lives on about $1.80 a day. However, her father is sick and can no longer run their farm.

Housing: Their home has walls of concrete. The roof is made of steel sheets. The floor is concrete. The windows are steel.
Sponsor monthly, quarterly, or annually