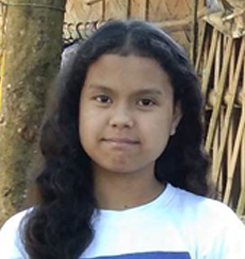 Shaira is a hardworking, efficient student who is eager to finish her studies. When she leads groups of fellow students, she listens to their opinions. She is an honor student with a 90% grade point average.

Goals: Shaira wants to become a doctor.

Favorites: In school, she likes science.

Family: Shaira lives with her parents, three siblings, a grandmother, a cousin, a nephew, and an aunt in a small house.

Income: The family of 10 lives on about $16 a day.

Housing: Their home has walls of wood. The roof is made of steel sheets. The floor is dirt. The windows are bamboo slats.
Sponsor monthly, quarterly, or annually