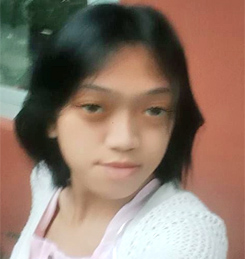 Lian Kyra is an officer in several school organizations. She listens to her classmates and helps unite them in everything they do. She excels in all her subjects and is determined to finish her studies. She is an honor student with a 90% grade point average.

Goals: Lian Kyra wants to become either a teacher or a civil engineer.

Favorites: In school, she likes science and English.

Family: Lian Kyra lives with her grandmother and four cousins.

Income: The family of six lives on about $4 a day.

Housing: Their home has walls of concrete. The roof is made of steel sheets. The floor is concrete. The windows are bamboo slats.
Camarines Sur, Philippines
Sponsor monthly, quarterly, or annually