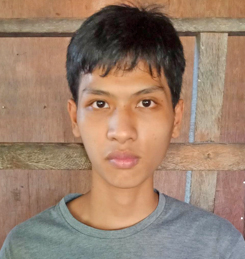 Charl has good leadership skills and knows how to manage his classmates. Charl has twice been a classroom auditor. He is the top performer in his classes and is an honor student with a 93% grade point average.

Goals: He wants to become either an engineer or a lawyer.

Favorites: In school, he likes MAPEH (Music, Arts, Physical Education and Health), Science, Filipino, AP (Advanced Placement) and TLE (Technology and Livelihood Education).

Family: Charl lives with his parents and seven siblings.

Income: The family of 10 lives on about $13 a day.

Housing: Their home has walls of solid wood and plywood. The roof is made of steel sheets. The floor is concrete. The windows are wire mesh and wood.
Sponsor monthly, quarterly, or annually